My mother, Beatrice Bessy Nunn, died twenty years ago today.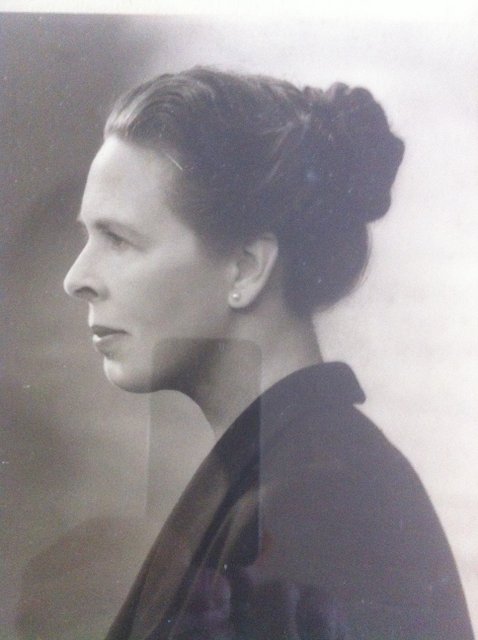 My mother as a young woman.
She has been on my mind recently as I have been reading the memoir that my brother, Charles, encouraged her to write during her last years.
And I guess I have been reading it because, since Charles died just before Christmas last year, I have become acutely aware that I am now the sole survivor of the Nunn family of my own and previous generations and thus what I choose to remember and recount, except where there are written records, becomes the irrefutable account of the family's history.
And as an even more onerous responsibility, any description that I select to give as to the characters and actions (and their consequences) of my dead forebears, will be those upon which they will be judged by people who did not know them.
We are off to Canada at the end of May for a memorial celebration of Charles' life on
2 June, when I expect I will say a few words about him.
And I am determined that the memories upon which any such words will be based, should be fair and accurate - especially those relating to his childhood about which his Canadian family will have only his account - if he gave them one.
Which brings me back to my mother's memoir.
The copy I am reading is, I think, a draft. It came to me via my first cousin once removed, Alice Winter, and it has in its margins numerous notes in her mother's (Faith Winter, my first cousin) handwriting, which mainly contradict my mother's memories - especially regarding dates and events around the time of Charles' birth in 1938.
The fact is that, after his birth, my mother left Charles in England to rejoin our father, Christopher, in West Africa. I always understood that Charles was eighteen months old whereas Faith says he was just three months old. Faith was a child of eleven at the time so I am left wondering whose memory is accurate and I no longer have Charles to ask what he understood to have been the case.
To add to my difficulties, while Beatrice notes the dates on which she wrote the entries on the events of her life, she fails, in the main part, to record the dates - even the years - on or in which the events she is remembering and recounting occurred!
So, with fairness and accuracy as my aim, I find myself in a considerable bind.
This prompted action.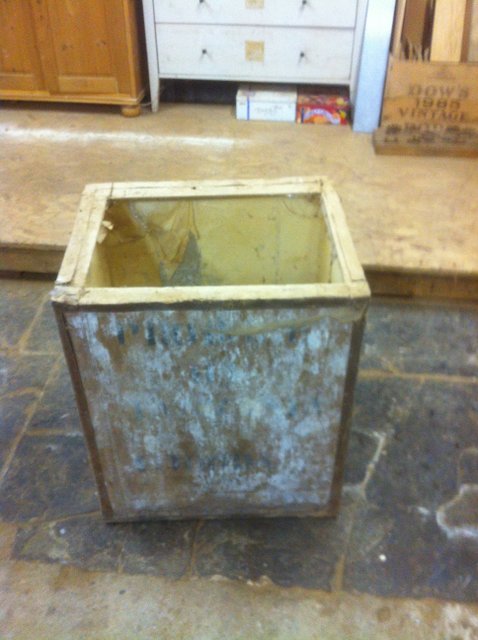 A tea-chest containing my mother's private correspondence has been languishing in the mill since she came to live with us in 1985. It has been a source of ever increasing anxiety and guilt over the intervening twenty-eight years as I feared that the contents of the tea chest would be slowly rotting in the damp mill.
But yesterday I sought it out to prove or dispel my fears.
I found it and what an amazing find it was!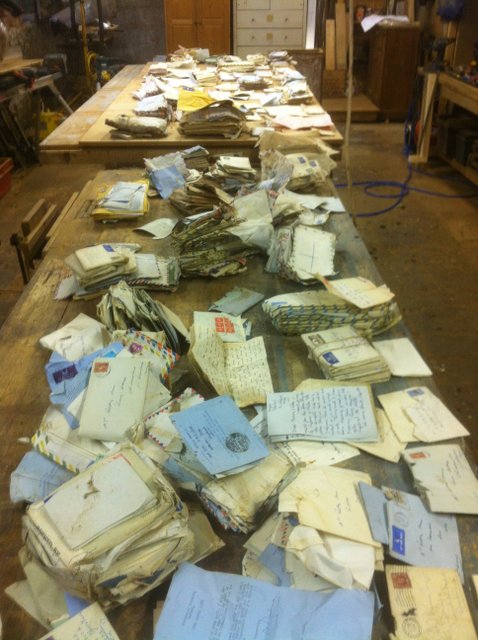 Within it - and in perfectly readable condition - I found every letter that my mother had received from Christopher, as well as many of those sent by her to him, since they were courting in the mid nineteen-twenties
And within those letters I should surely find not only the missing dates but the very whys and wherefores of my parents lives.
It also held every letter that Charles and I sent to her (or them when they were abroad together) up to the time she came to live here.
I reckon they must run to a thousand at least and it took me over an hour just to excavate them from the chest and it will take me weeks to sort them and months, if not years, to read through them all!
I have no doubt but that as I get into this task, the contents of their correspondence will provide matters that are worthy of mention here.
But just glancing at the stamps, addresses and post marks as I removed the envelopes from the chest provided an extraordinary glimpse of the lives they led.
There were letters to or from:
The Gambia
Gold coast
Sierra Leone
Uganda
Trieste
Malta
Jamaica
American Virgin Islands
Fiji
USA
Switzerland
Italy
Pakistan
Ecuador
Colombia
Brazil
Peru
Chile
Libya
Kuwait
Not to mention
The UK, Canada and Ireland!